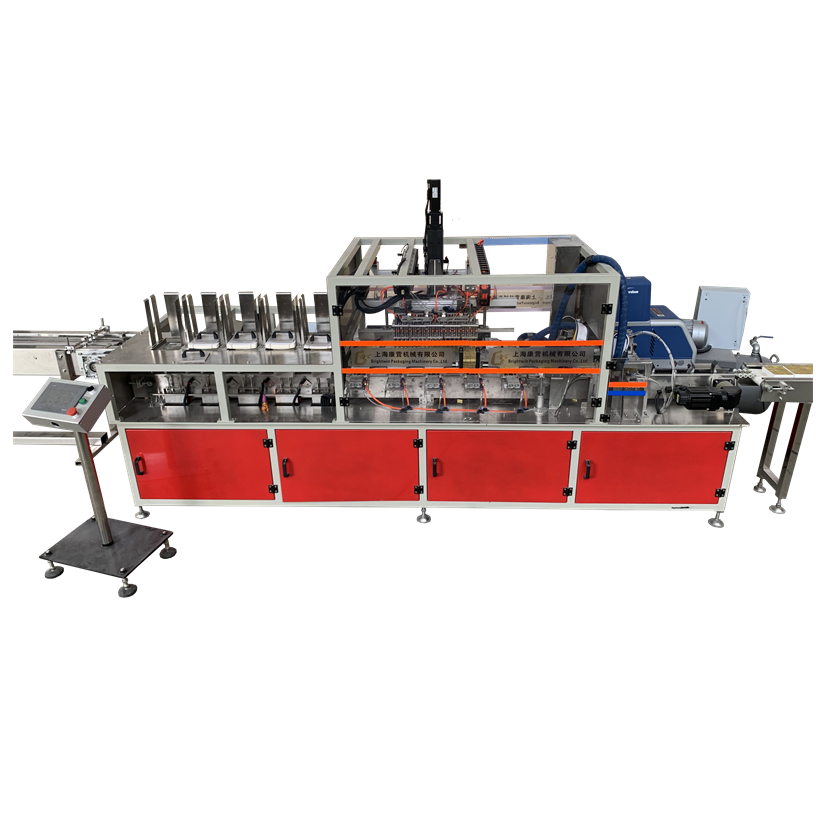 The automatic cube tray packing machine has a mesh belt conveyor to arrange the products neatly, divided into six rows, five rows, four rows or 3 rows (depending on the packaging method). In addition, the paper is also stacked on one side, and the paper is pulled forward using the principle of a robotic arm. Push, when the paper and product reach the positioning point, use the machine pushing mechanism to swing left and right to make the product lightly fall on the paper. There is a set of air cylinders and suction cups under the paper to pull the paper and products down to form. After forming, use a chain to drive forward , And re-do the forward movement. After the box is formed, it will spray glue and glue every time it is conveyed, and push it forward on the conveyor, and then stack the pallet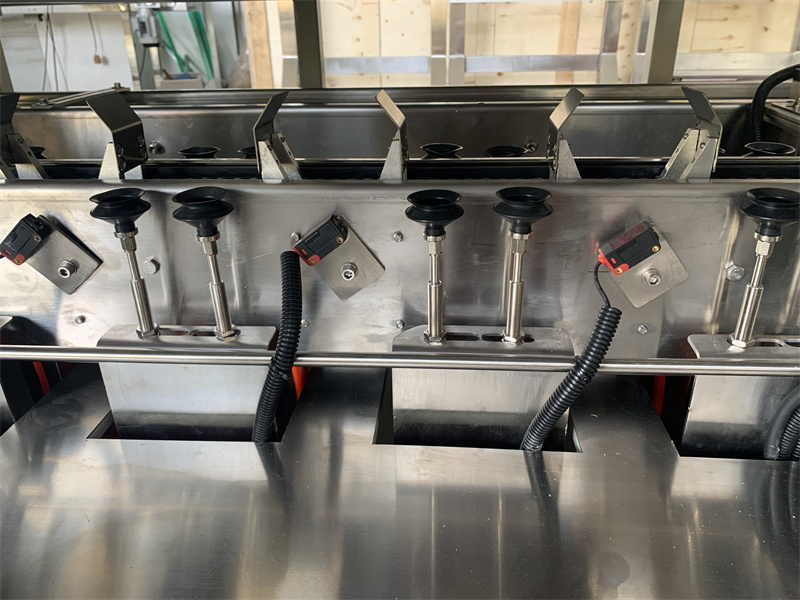 ●Packing speed: 10 boxes per minute Specifications of box packaging products:
●Operation mode: use the touch screen in Chinese and English to operate Dimension: (L)6070mm ×(W)2800mm ×(H)2006mm
●Production efficiency: 98%

3.Technical parameter:
●Voltage:220V~440V
●50HZ~60HZ
●Power consumption: 8 kw
●Air preesure: 6.0 kg/cm2
●Air consumption: 1000 L/ min
●Packing marterial:Corrugated pape
Brand of parts
●Engineering microprocessor:  Schneider System PLC
●Electrical components: Japanese or European
●Electronic component: Use OMRON、SICK、NAIS、YAMATAKE、SUNX、Power supply DC24V
●Pneumatic cylinder and solenoid valve: Airtac
●Motor and turbine reducer: European motor U-CAN.  
●Heavy-duty turbine reducer and motor: use Liming brand and TECO motor
●Hot melt glue machine: use the American NORDSON glue box capacity 9L
●Vacuum generator: SAV-SD
●1/4 conveyor line: use UNI-SNB series plastic steel conveyor mesh belt
●Drive divider: use Tanzi Seiki products
●Machine: welded by carbon steel plate
●Mechanical parts: using laser cutting and precision processing and marked with codes
●Surface treatment of the fuselage: powder baking varnish, the appearance color can be specified by the customer.
After sales services:
1.Offer professional operation manual
2.Online support
3.Video technical support
4.Free spare parts during warranty period
5.Field installation, commissioning and training
6.Field maintenance and repair service
---
---